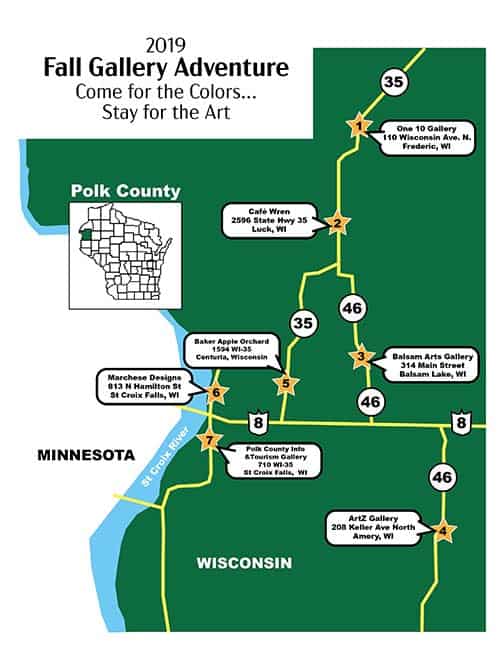 September 27-29, galleries in Polk County will lead you on a beautiful road trip past corn fields, horse ranches, cattle farms, apple orchards, forests, vineyards, elephants, rolling hills, birch trees, oaks, maples, and seven galleries of original art by original people.
Make the rounds. Explore the exceptional visuals inside and out. Make your autumn road trip complete by visiting all seven galleries and have a chance to win a cash prize of $500!
Brochures with maps and details about the drawing are available at any of the participating locations or download from their website.
ArtZ Gallery
208 Keller Ave N, Amery
www.artzgallery.org
Baker Apple Orchard
1594 WI-35, Centuria
www.bakerorchard.com
Balsam Arts
314 Main Street, Balsam Lake
www.Balsamarts.com
Café Wren
2596 State Hwy 35, Luck
cafewren@lakeland.ws
Marchese Designs
813 N Hamilton St, St Croix Falls
www.marchesedesignstudios.com
One 10 Gallery
110 Wisconsin Avenue N, Frederic
www.one10gallery.com
Polk County Information and Tourism Gallery
710 WI-35, St Croix Falls
www.co.polk.wi.us/tourism