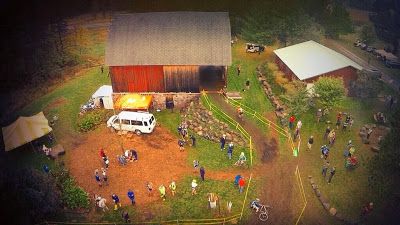 Cyclocross Race: Saturday, October 6, 2018
If you've never watched a cyclocross bike race, it's a blast! Racers ride the course through the orchard and our woods and encounter lots of barriers including log stair-steps where they dismount, run up the stairs, and remount. Riders also must maneuver through a sand pit – some try riding, others jump off and run! You can watch the races from several locations.
Kids are welcome to bring their bikes and ride the "Barn Loop" short course at NOON! Donkey Label merchandise will be available for purchase for this special event.
Consuming Fire brick oven pizza is back and will be cooking up pizzas until 2:00. Bakery goodies will be available, too! Add a cup of hot cider and you've got a delicious lunch!
Website: http://bakerorchardcross.blogspot.com
Register Here: https://www.usacycling.org/events