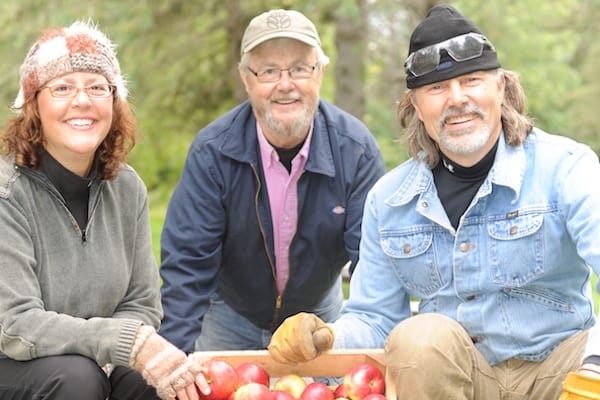 Welcome to Baker Orchard!
See you at the orchard! Dan, John and Jodi Baker.
Baker Orchard is family owned and family run. We take pride in our high quality apples, which we have been growing since 1976.
We are opening Friday, August 24 for apples. The Gallery will open Friday, August 31.
Fall Weekend hours:
Monday-Thursday: Closed
Friday, Saturday & Sunday: 10 a.m. – 5 p.m.

COME VISIT THE ORCHARD HOUSE GALLERY OPENING FRIDAY, AUGUST 31.

2018 Fall Events:12th annual Orchard Art Festival: Saturday, September 22rd and Sunday, September 23th, 2018.
Come enjoy a wide variety of artists on the lawn and in the barn; live music; food from Café Wren and other vendors; pick-your-own orchard tours; FREE admission and FREE parking!
Cyclocross Race: Our 10th annual Baker Orchard Cyclocross Race will be held on Saturday October 6th, 2018.  Come watch bicyclists ride through the orchard, jump over barriers and race to the finish!
Stop by and sample our apples and cider, along with selected local foods to eat. Pick your own apples, or buy from the stand, and take a seat by the fire pit to relax. Enjoy our hiking trails, boulder park, the renovated, century-old barn and our unique Orchard House Art Gallery housing local artists. We're also excited for you to experience our ever-changing gardens and grounds.