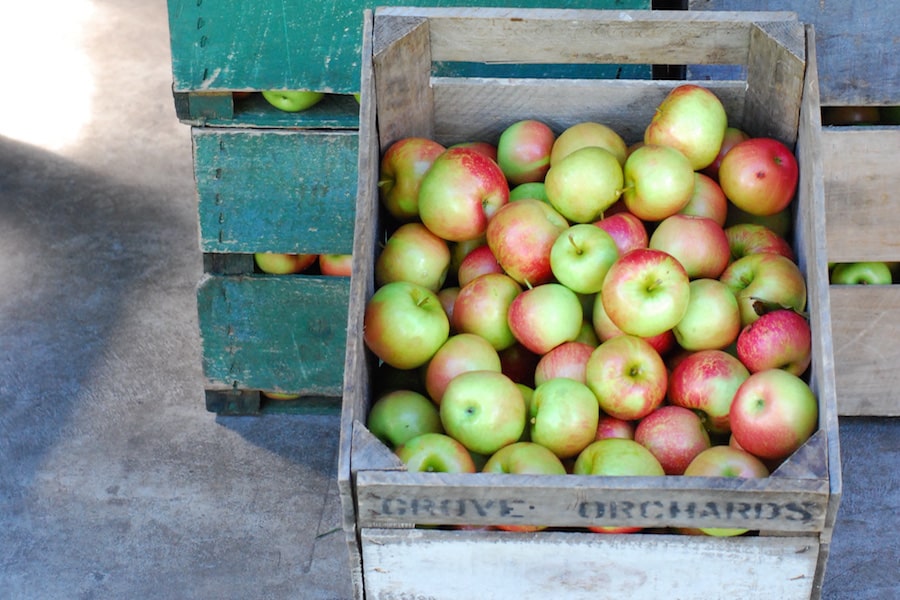 Fall colors are stunning at the orchard right now. The Orchard House Gallery is full of beautiful art and gifts – it's not too early for holiday shopping!
APPLES FOR THE WEEKEND OF OCT. 13-15:
BIG BEN™- Thanks to Grandma Ruth Baker, our signature apple can only be found at Baker Orchard. This apple is HUGE, juicy, crisp, slightly tart and a great keeper.
HARALSON- a tart baking apple, great keeper for Winter
HONEYCRISP- everyone's favorite, perfect for eating, adding to salads, and of course, for baking.
WOLF RIVER- a large, mild apple perfect for baking as it holds its shape.
CASE SALE! CASE SALE! CASE SALE!
When you have A LOT of apples, you put them on sale! WHILE SUPPLIES LAST! Bushels = approximately 45 pounds.
HONEYCRISP- $40 for 'first' quality; that's less than a dollar a pound. $20 for 'seconds' (less than $.50 per pound)
WOLF RIVER- $20 for 'first' quality. Less than $.50 per pound.
PICK-YOUR-OWN
We still have apples on the trees for Pick-Your-Own experiences. They are $15 for a half-peck bag (approximately 6 pounds). Check in at the stand to buy a bag before going out into the orchard. We can guide you to the apples ready for picking.
Hand-pressed, delicious cider: hot by the glass, ½ gallon and gallon while supplies last. Freeze some for winter deliciousness!
Bakery goodies available from Café Wren on Saturday while supplies last (www.thecafewren.com).
LOCAL MEATS, EGGS, PRODUCE: Johnson Family Pastures is selling their meats (chicken, pork, beef), eggs and produce at our apple stand! Find out all about Tamara (Baker) and Chris Johnson at www.johnsonfamilypastures.org. Sign up for their updates and get to know your local farmers!
DOGS AT THE ORCHARD:
Lots of folks like to bring their dogs to our orchard. Baker Orchard is dog-friendly. Please keep dogs on lead at all times and please clean up after them. THANK YOU!
HOURS:
Friday, Saturday and Sunday 10 a.m. – 5 p.m.